WHY JOIN PROVEN?
Proven Group of Companies works with its employees to provide them with the skills and experiences that help them to meet their personal goals and improve the quality of their lives and the communities they serve. Be part of our dynamic team and make a difference.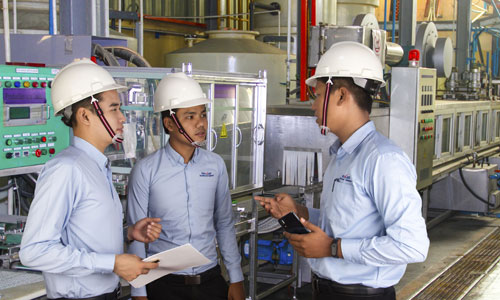 OPPORTUNITIES
As Proven continues to grow our businesses and expand our presence both in Myanmar and internationally, we are committed to offering the right candidates excellent opportunities to grow with us.
These opportunities are available across our business units. If you are keen to work in a vibrant and exciting environment where innovation is a daily goal, and want to be part of a motivated and valued team, apply to join us and be a part of the Proven family.
For more information on current employment opportunities, please email your CV to [email protected]
JOB TITLE
JOB DESCRIPTION
NO. OF POSITION/S
GENDER
B 2 B Manager
Job Description


The role is responsible for product marketing requirements for B2B. Develop go to market strategies. Create materials based on segments, sales enablement and field communications, partnership requirements, and coordination with the sales and distribution channels.






Reporting to General Manager (Sales & Marketing).


Create materials based on segments, field training, field communications, partnership requirements, and coordination with Markets.


Support product roadmap, own marketing communications, support sales & marketing field through executive briefings and customer meetings.


Develop a feedback loop for product performance, gather market research including addressable and selling markets, work with team for timely & adequate entrance into the markets / segments.


Develop use cases, anticipate potential roadblocks & manage resolutions.


Critical analysis of overall revenue and sales results as well as business intelligence data at product level to understand trends which provides input into what types of offers to create as well as where to execute.


Need to understand anomalies in trends with the 'why' behind them and provide recommendations on addressing the revenue gaps.


Provide recommendations based on business intelligence of product revenue that informs go-to-market initiatives around how we position various product portfolio to drive incremental revenue in the business channels.


Understand the ISO System, RC, TQM System and follow them to work together for improvement.




B 2 B Manager Qualifications




5+ years marketing experience in a B2B role.

Excellent understanding of B2B marketing

Demonstrated ability to manage budgeting process and use of analytical skills


Proven track record in delivering industry marketing campaigns that drive sales growth


Excellent communication skills to staff and to represent the brands


Ability to create and manage marketing strategies across multiple countries


Proven people management and leadership skills


Clear alignment to Intrepid Group values and culture





1
Male/Female
Chief Operating Officer
Job Description:




Will work alongside the CEO to execute the company vision, put procedures and resources in place to promote scaling, optimize inefficient areas in the organization and coordinate with department heads. Design and implement business strategies, plans and procedures.


Oversee the operations of the organization to meet business goals and projections


Empower the operational team with the leadership and resources they need to successfully complete operations initiatives


To accomplish short and long-term operational goals


Measure and report on operational performance and develop plans to improve relevant key performance indicators


Set comprehensive goals for performance and growth


To secure the functionality of business to drive extensive and sustainable growth.


Establish policies that promote company culture and vision


Oversee daily operations of the company and the work of executives


Lead employees to encourage maximum performance and dedication


Evaluate performance by analyzing and interpreting data and metrics


Write and submit reports to the CEO in all matters of importance


Participate in expansion activities.


Manage relationships with partners/vendors




Qualifications




BSc/BA in Business Administration or MSc/MBA is a plus


At least 15 years of experience working with professional services organizations and leadership positions at all levels.


Understanding of business functions such as HR, Finance, Sales, Marketing etc.


Outstanding organizational and leadership abilities


Demonstrable competency in strategic planning and business development


Working knowledge of data analysis and performance/operation metrics


Working knowledge of IT/Business infrastructure and MS Office


Have a strong understanding of the operational requirements and insights into how you can make things better.


Familiarity with the operational procedures at all levels of the organization


Strong analytical and data-driven mindset that translates into leadership skills


Ability to inspire employees to live up to their potential and optimize their productivity


Ability to communicate vision to board of directors


Excellent interpersonal and public speaking skills


Aptitude in decision-making and problem-solving



1
Male/Female
Electrical Engineer
Job Description


The Electrical Engineer will work under the direction of Production Director.
Electrical Engineer to maintain and solve the electrical problems in the factory.







Perform detailed calculations to establish standards and specifications


Inspect installations and observe operations to ensure compliance with design and equipment specifications and safety standards.


Design, implement, maintain, and improve electrical instruments, equipment, facilities, components and systems for the manufacturing and factory.


Use computer-assisted engineering software (AutoCAD) to perform engineering tasks.


Direct and coordinate manufacturing, construction, installation, maintenance, support, documentation, and testing activities to ensure compliance with specifications, codes, and safety requirements.


Prepare specifications for purchase of materials and equipment.


Oversee project production efforts to assure projects are completed satisfactorily, on time and within budget.


Plan layout of electric power generating plants and distribution lines and stations.


Keep current with the latest technical innovations in electrical engineering


Understand the ISO System, RC, TQM System and follow them to work together for improvement.




Electrical Engineer qualifications




Above 5 years electrical engineering experience


Bachelor's Degree in Electrical Engineering required


Competent in the use of electrical engineering software


Able to problem solve and troubleshoot as the need arises





1
Male/Female
Factory Manager
Job Description




Report to Managing Director & Production director.


Handle functions related to production, departments such as (Planning, Production, and
Maintenance & Quality Control) and handle every day general management tasks and administration to improve them well.



To improve Production Efficiency and Production Yield, reduce Waste, improve Production Quality, reduce Maintenance down Time and increase Cost Efficiency.


Keep record of the performance review for the Managers at the factory yearly. Review the reports received to do the respective tasks well from other and make the necessary arrangements.


Make arrangements and give out instructions for planned production and allow machines to run full efficiency.


Calculate and arrange to purchase the required materials accurately, help to reduce production costs, and oversee full quality products production, plan to increase customers' confidence.


For factory fire safety and fire protection and workplace health safety, review the events from the past and work towards prevention of repeated occurrence and advance protection.


Weekly and monthly, meet the staffs and talk to them about the strength and weakness of the processes in advance, meet production quality according to requirements and achieve improved production methods.


Disuses and assign supervisor to check for factory safety. Anything unusual should be reported to the Director immediately.


Be responsible for the success and failure of the tasks that you undertake. Make monthly and weekly report for the factory and report to production director then to Managing Director.


Report to the respective person when important persons and guests visit the factory. Arrange for them to tour the factory.


Work together with the staffs for health and safety and for prevention of risks.


Understand the ISO System, RC, TQM System and follow them to work together for improvement.




Factory Manager Job Qualifications




Bachelor's Degree in Mechanical or Chemical Engineering preferred


7+ years' plant operations experience


Familiarity with regulatory requirements for operating plants


Able to lead root cause analysis investigations


Proficient with MS Office


Able to explain training material to our operating staff


Aptitude for equipment operation and troubleshooting


Excellent communication skills





1
Male/Female
Maintenance & Engineering Manager
Job Description


To help the continuality of the production and to oversee the repairing of Machines on time.






Report to the Factory Manager.


Lead and manage the Workshop and the Maintenance.


You will be the decision maker for the Maintenance related tasks.


Check for Daily Check Point and Breakdown every day.


If there is a problem that cannot be solved in the Maintenance Department, report to the upper management accordingly and ask for suggestion as necessary. Call for outside contractor and lead and manage them to solve the problem.


Record of the Machine, proof, and documents are to be kept systematically and manage them accordingly.


Update the Work Instruction, Job Description, Procedure as per the ISO requirements.


Confirm the ordering of Machine Spare parts from aboard.


Schedule Monthly and Yearly Plan for Machine Maintained.


Do the tasks assign by upper management from time to time.


Understand the ISO System, RC, TQM System and follow them to work together for improvement.




Maintenance and Engineering Manager Qualification




This position requires an Under graduate Degree in Mechanical Engineering.


Would prefer experience with a multifamily/property management portfolio.


5+ years of required experience in increasing responsibilities in Maintenance or Industry.


Required skills for the position include: project management, strategic thinking, planning and problem solving, presentation and negotiation skills, budget management, team building, and conflict resolution.





1
Male/Female
Mechanical Engineering
Job Description


Responsible to develop high quality and reliable product within a competitive cost and efficient manufacturability, as well as solve and prevent issues which may occur during product development, with support from other Mechanical Engineers, supervisors, managers and project team members from other departments.






The Mechanical Engineer will work under the direction of Production Director.


Develop cell mounting schemes and high reliability interconnect methods.


Work with manufacturing and automation personnel to ensure cost optimized assembly and test solutions for intended volume production.


Develop battery product based on mechanical specification, using both 2D and 3D drawing application software.


Evaluate Sample product, parts and materials quality are meet with standards.


Collaborate with other engineers and technicians to collect, review, analyze and present machine problems.


Understand the ISO System, QHSE System, RC, TQM System and follow them to work together for improvement.


Prepare procedure work instruction and make sure actual production is according to work instruction and specification.




Mechanical Engineer Qualifications




Diploma/ degree in a relevant subject such as mechanical


Relevant work experience have above 5 years industrial placements


Competent in the use of mechanical engineering software such as 3D CAD and 2 D drawings.


Strong understanding of mechanical manufacturing processes


Able to problem solve and troubleshoot as the need arises


Experience with MS Office and other normal PC programs.


Training to relevant staff/ technician where necessary.


Make sure department objective is meet and take actions where failure.


Possess good knowledge of soft copy & hard copy filling documentation and standardization.



1
Male/Female
Production Engineer
Job Description


The Battery Production Engineer will work under the direction of Production Director. Production Engineer will oversee synthesizing/utilizing novel materials for battery applications. Expected duties include but are not limited to materials synthesis R&D, electrochemical battery system design, new battery structure design, support future materials scale-up production. The Battery Production Engineer will cooperate closely with other team members to make progress on next-generation energy storage devices. The production Engineer will work across a variety of functional groups that are directly involved in engineering, product development, implementation, and international contract manufacturing partners. The ideal candidate is an inventive problem solver that is capable of working through technical challenges and employing pragmatic solutions.


Essential Job Functions:




Examine new battery materials


Define protocols and SOPs for battery production


Extensive knowledge in the mechanism of electrochemical cells


Capability to design electrode formulation


Capability to collect, evaluates, and presents data from equipment


Capability to identify/troubleshoot the root causes of batteries failures.


Capability to follow safety procedures in the factory


Hands-on R&D deposition process and equipment development experience


To use contemporary and industry standard process monitoring, data acquisition and statistical analysis tools to characterize hardware and chemical interactions


Self-starter that can carry out tasks with minimal guidance


Knowledge of lab, chemical, equipment and facility safety


To create engineering documents. Material specification, equipment requirement, contractor statement of work.


Understand the ISO System, RC, TQM System and follow them to work together for improvement.




Production Engineer Qualifications




5 years or more experience preferred on production engineering field.


Degree in Chemistry, Industrial Engineering, Mechanical Engineering, Chemical Engineering, Materials Science, Electrochemical Engineering, or equivalent.



1
Male/Female
R & D Manager
Job Description


Report to the production director. A research and development (R&D) manager performs a number of highly important roles within an organization. They are responsible for research, planning, and implementing new programs and protocols into their company or organization and overseeing the development of new products. The industry in which a research and development manager works will likely have an impact on their specific duties, as these professionals often find employment in fields like healthcare, technology, business, and pharmaceuticals. The R&D manager should also stay informed on what is happening in the research and development field at large in order to make sure their company is up-to-date and current with the most advanced R&D developments.






Managing new product development projects and innovation.


Manage technical outreach and interactions with external suppliers to select and integrate battery solutions for use in projects.


Provide engineering support battery systems (document problems in the field, investigate root causes, and influence future iterations).


Work of Battery Systems & Product Development to create engineering standards policies for the company.


Managing new product development projects and innovation.


Providing input to product specifications for performance, system compatibility and improving manufacturing processes.


Design comprehensive battery test protocols to characterize all required design.


Provide cutting edge battery performance expertise and advise fellow engineers.


Developing and implementing policies, standards and procedures, and technical work for the industry.


Assigning, coordinating, and reviewing the technical work of a department or departments.


Create and maintain an efficient, hygienic, and positive working environment.


Understand the Standard Operating Procedures and Inspection Regulations.


Ensure quality control and efficient work flow.


Understand the ISO System, RC, TQM System and follow them to work together for improvement.




R & D manager Qualifications




Bachelor's degree in Engineering or a related field.


Above 5 years of experience in advanced battery system design and battery software product creation.


Strong analytical and quantitative problem-solving skills.


Regulatory compliance and testing experience.


Experience with environmental and safety requirements



1
Male/Female